2007/03/04 @ 2:36 PM
The internet helps me to save time, and helps me to waste it. So far today, I am choosing to waste time. Perhaps I will change my mind later.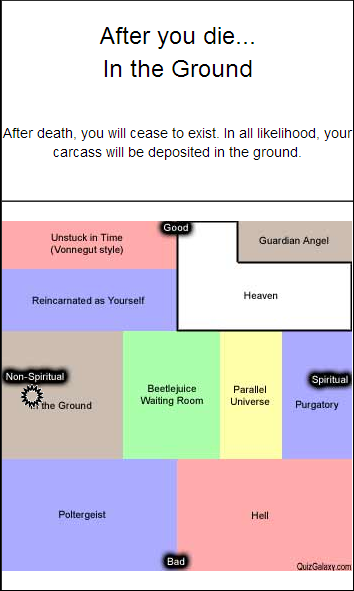 Take this quiz at QuizGalaxy.com
Belief-O-Matic
Your Results:
The top score on the list below represents the faith that Belief-O-Matic, in its less than infinite wisdom, thinks most closely matches your beliefs. However, even a score of 100% does not mean that your views are all shared by this faith, or vice versa.
Belief-O-Matic then lists another 26 faiths in order of how much they have in common with your professed beliefs. The higher a faith appears on this list, the more closely it aligns with your thinking.
Tags afterlife - death - dumb online quizzes - link - procrastination - Religion - religion - useless